Pam Long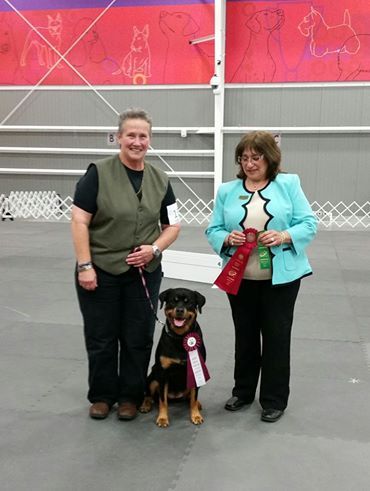 Pam and Am/Int CH Atta UDX GO BN SIN SCN DS NW2 U-UD RATO HIC TT
*Good Dog Center Competition Obedience instructor and BLT Trainer.
Pam teaches group classes, offers private lessons for competition and behavioral problems, and offers obedience seminars and workshops at the GDC. 
Pam Long founded Ironclad K9 Academy in Woodstock, Georgia, in 1987. She has competed in obedience, nose work, agility, conformation, dock diving, tracking, carting, barn hunt, water rescue, weight pull, and herding.  She loves working with a variety of breeds and excels at problem solving and proofing. Pam's students have earned multiple OTCHs, High in Trials and High Combined awards and have qualified for AKC and UKC National events.  Pam is currently competing with her two Rottweilers in obedience, nose work, and dock diving.  She has been helping people with their dog's serious behavioral issues for over 35 years. We are fortunate to have her experience and expertise at the Good Dog Center.
*Field Trainer for Canine Companions for Independence (Service Dog training) for 20 years
*Temperament tested hundreds of litters for breeders, including breeds from all seven groups
*Evaluator and temperament tester for several purebred rescue organizations
*Served as Obedience Chair for the Atlanta Kennel Club for several years
*Trained 2 Rottweilers for Search and Rescue, and a Newfoundland for cadaver recovery for drowning victims
*Titled in obedience competitions: Boxers, Newfoundlands, Pekingese, Golden Retriever, St. Bernard and Rottweilers
*Titled the 1st UDX Pekingese in breed history
*Working group winner at the AKC National Obedience Championship with her St. Bernard
*Place winner in Open and Utility at the UKC All Star national obedience competition
*Multiple High in Trial and High Combined winner in AKC and UKC obedience
*Competed and titled in Water Rescue competitions with her Newfoundlands
*Bachelor degree in Education
*Member of the Atlanta Kennel Club, Upper Iowa Training Club, and serves as President for the Peach State Agility and Obedience Club
Has earned the following titles:
*Utility Dog Excellent
*FIVE UKC OTCH titles on a Pekingese and Rottweilers
*Tracking Dog
*Agility Excellent and Agility Excellent Jumpers
*Carting Advanced
*Nose Work 2
*Pre-Trial Tested (herding)
*Dock Senior (dock diving)
*Begleithund (schutzhund)