Ellen Drewes-Stoen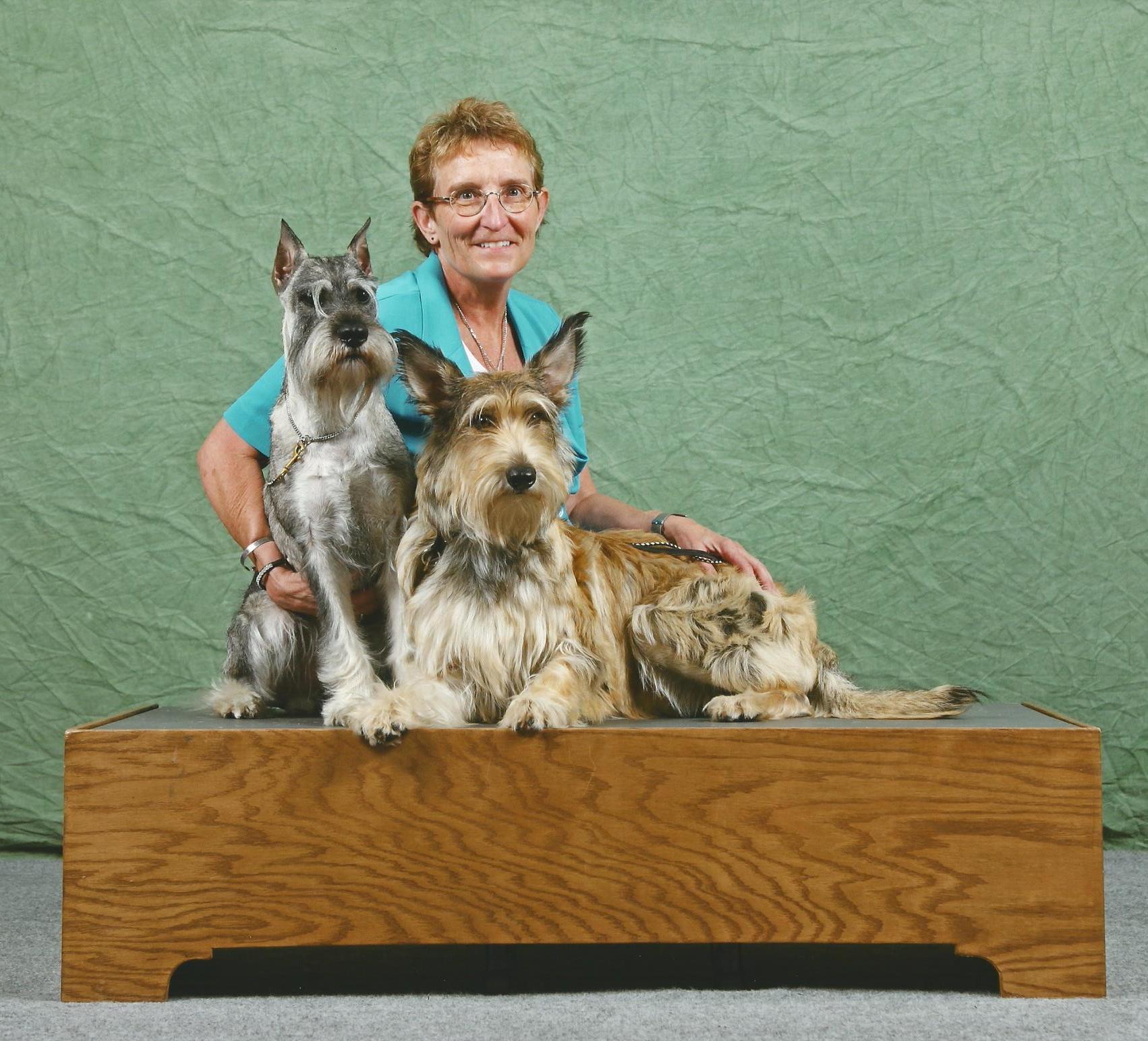 Ellen with Trek and Audi
"Dogs are not our whole life, but they make our lives whole." (R. Caras). Since 1989, I have been been involved in dog training. My husband (Erik Stoen) and I live on "Das Dog Haus" acreage north of Decorah (Highlandville). My training pursuits have centered on conformation, performance, therapy dog, and dog fitness. Dog breeds that we have owned and trained include the: Miniature Schnauzer, Standard Schnauzer, Berger Picard, and Schapendoes. We have also bred Standard Schnauzers, with one dam in the SSCA Hall of Fame and an AKC Leading Producer. All our dogs have been owner-handled, many becoming AKC and UKC Champions. Many have placed in the Top 10 in conformation (AKC and/or UKC) standings and have received International titles. Several have dual titles in both conformation and performance.
All of our dog adventures and experiences have helped define who I am and what I do as a dog training instructor. For 40 years, I taught at Luther College (Decorah) in physical education and supervised student teachers. My expertise is in "pedagogy," that is, methods for teaching. I enjoy merging my two passions: teaching methods + dog training into ALL the content I teach at the Good Dog Center. As I frequently say, "I was born to be a teacher…it doesn't get any better than this!" As a result, I continue to seek out opportunities to learn and grow in my dog endeavors. I am endorsed by the National Association of Dog Obedience Instructors (NADOI); certified as a: Canine Good Citizen/Tricks (CGC) and evaluator; Socialized Pet Obedience Title (SPOT) evaluator; and, Fit Dog Instructor (AKC). Summer trips to northern Minnesota afford me the opportunity to present "how to teach" topics to members of the Brainerd Kennel Club. Finally, I write dog training articles for quarterly international Schapendoes publications, including an advice column ("Dear K9 Prof").
Besides exhibiting in dog shows, for many years, we have been involved in taking many of our dogs to area nursing homes. It was not uncommon to have a dog accompany me to my office at Luther College, as well as classes I taught. When Quasar, a Schapendoes joined our family, my interest in therapy work was rekindled because of the happy, sweet temperament of this breed. Quasar and I worked together to earned certification with the Alliance for Therapy Dogs (ATD), and we are proud to report that he is Luther College's first emotional support animal/therapy dog for students!  We look forward to how this chapter of our lives unfolds! Perhaps my interest in therapy work will lead me to becoming certified as an ADT therapy dog training instructor.
Over the past three decades, many dogs have passed through our lives, all leaving imprints on our hearts! Currently, Das Dog Haus is quite diverse with a: Standard Schnauzer, Berger Picard, and Schapendoes. On a daily basis, not only does this three-pack keep us busy, they continue to teach their humans about canine communication, pack order, the importance of mindfulness, AND unconditional love! Indeed, they represent the notion that I have repeatedly shared with my students at the Good Dog Center, "training lasts a lifetime!"
Courses I teach at the Good Dog Center:
Puppy Kindergarten

Short Course

Basic Obedience

Manners Too

Fit Dog (Level 1)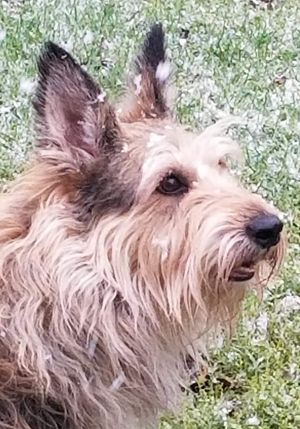 UKC/IntCH/BIS Sketchbook I'm All Ears! CGC SPOT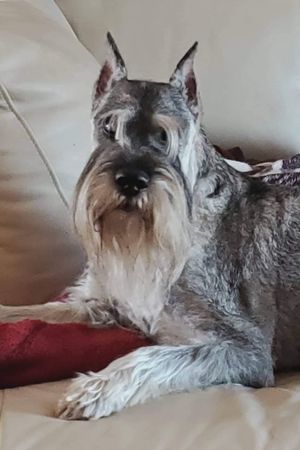 UKC/IntCH/BIS Legacy Trekkin' With The Trolls SPOT NW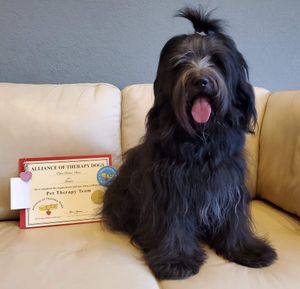 UKC/IntCH/MultiBIS Schapannro's Q Quasi-Stellar CGC TKN TKI ATD

Fit Dog Article written by Ellen...
"Resolution: Fit Dog in 2021"
Winter, 2021
By: Ellen Drewes-Stoen, NADOI #920
Instructor/Trainer:  Good Dog Center (Decorah, Iowa)
Email: drewesel@luther.edu
INTRODUCTION:
             Here at Das Dog Haus in Northeast Iowa, hardly a day goes by that we do not comment, "Look, they are just like children!" The daily interactions we have with our 3-pack cause us to frequently take notice of their "kid-like" behaviors. In fact, we have noted a dramatic increase in these childlike behaviors since Quasar, our Schapendoes, arrived.  I suspect that you who own Schapendoezen, or other breeds, for that matter, can report similar observations. As I examine these behaviors, this dog trainer cannot help but see unlimited potential!  Consequently, I decided that I needed to quickly step up my training skills in order to facilitate each dog's development and potential.
             There's no doubt that we have all been challenged by the circumstances surrounding the 2020 year. Just like humans, dogs need PHYSICAL exercise and MENTAL stimulation in order to thrive. Recently, many dog owners have discovered the benefits of teaching tricks to their dog. In fact, not only is it fun, but teaching tricks is a popular form of mental and physical exercise for dogs. Quasar quickly demonstrated that he could learn more than 40 novice and intermediate-level tricks during 2020. And, ten minutes of tricks training was the equivalent of 30-minutes of obedience training.  Quasar was challenged by learning tricks and responded with exceptional focus, and we had fun at the same time!  Following a tricks training session, I learned that he was ready for a much-earned nap, affording him a wonderful opportunity to let things "sink in." 
Where am I going with this? Having seen the benefits of tricks training, when another novel training experience came my way, I was very motivated to see what else is out there. Shortly after becoming certified as an evaluator for the Canine Good Citizen (CGC) program, the American Kennel Club sent out notices to evaluators about their interest in becoming a certified instructor with their new program: Fit Dog Level One. The course seemed a perfect "fit" for this recently retired college professor/head volleyball coach/self-proclaimed "gym rat," who for 40 years, taught physical education courses for students going into teaching!  I couldn't hit "reply" fast enough and quickly enrolled in the online course.  Soon after, I found myself immersed in the course content! I carefully analyzed each physical exercise and successfully completed tests after each chapter. Then the fun began! I taught each exercise to Quasar in preparation for him to be my "demo dog" when I teach Fit Dog for the first time in 2021!
BENEFITS OF STRENGTH EXERCISES:
 "More than 50% of dogs in the US are overweight…20% of those dogs are considered clinically obese.  Dogs realize the same benefits of physical activity as humans do: increased performance, decreased risk of injury, lowered stress levels, better sleep habits, and a healthier mind and body" (AKC Fit Dog Level One). Core conditioning is an essential part of any dog's training program, and this includes the pet dog as well as the performance dog. Further, as a professional dog trainer, I hear on a regular basis complaints from owners such as:  separation anxiety, reactivity, aggression, boredom chewing, nuisance barking, or other behavioral concerns. Adding Fit Dog or other strengthening exercises to your dog's activities 3-4 times a week has many benefits, including:
Improved reaction and balance control

Increased trunk and core strength

Stabilization of weak areas

Improved balance and proprioception (awareness of the body's position in space)

Increased flexibility and range of motion in joints and elongation of the muscles

Improved joint alignment

Stack training in preparation for conformation shows

Improved sensory and body awareness

Stimulation of the dog's brain and body

Help in eliminating problem behaviors

Curbing of boredom and anxiety

Prevention of injuries, especially from movements like running, jumping and turning
(FitPAWS & AKC Fit Dog Level One Course)
IMPORTANT STRENGTH EXERCISE INSTRUCTIONS:
             Before embarking upon any physical exercise program, be sure your dog is healthy to begin. It's recommended that you consult your canine health professional before beginning any exercise program.* As I work with Quasar, I am always checking for proper body alignment while he is performing exercises. For example, I watch carefully to see that my dog's:  feet are underneath front shoulders and rear;  back is kept neutral and not twisted; neck is kept neutral and not excessively extended; front limbs and hind limbs are supporting weight SAFELY.  And lastly, I watch to see that any over-extension of the dog's limbs, neck, or back is avoided.  Work SLOWLY!  For example, I will work with Quasar as he builds up to 3-5 repetitions for each exercise, making sure that he is NEVER over-exercised or that he becomes overly tired.  A few words of caution are in order:   Humans engaged in fitness programs often work through exercises too quickly. Do not rush through these movements with your dog! All dog exercises are to be slowly controlled and progressed, above all, keeping everything SAFE, SHORT and FUN!
*Exclusions NOT appropriate for exercise conditioning program:  dogs recovering from injuries, morbidly obese, dogs in pain, puppies under 18 months are allowed AS LONG AS there are NO repetitive movements (AKC Fit Dog Level One).
Whenever possible, I like to end a good training session with our trick, "Call the Meeting to Order." I sit down on the floor with Quasar, asking him to "down." He quickly obliges as I say, "call the meeting to order" which he does with a loud thump of his "gavel" (front paw) to the floor. I will ask a silly question: "How are you doing?" How did this go?" He will respond with some sort of vocalization; as I say, "Really?" He is quick to come back with something louder! And, so it goes, he gets a treat for each response, and, we close with a paw shake as I say, "Thank you for a good session."
SIGNS OF FATIGUE:
             As you begin this new venture in canine conditioning, it's easy to lose track of time because you are engaged in learning a new novel skill with your best friend. Experience has shown me that it's important to keep a keen eye on your dog's body posture and gestures. This is important: Keep your training sessions short (7-10 minutes) AND fun!  I think I have become Quasar's best cheerleader!  Some sessions may even be shorter; quality is better than quantity. Multiple short training sessions in a day can work quite well.  What follows are eight signs of fatigue, signaling that it's time to bring your training session to a close:
The dog's technique and proper form deteriorates, feet are not held still, feet step off the equipment.

The dog is shaking or wobbling, struggling with balance.

The dog's weight is shifting to compensate for muscle fatigue.

The dog cannot hold the position because of fatigue and a break is needed.

The dog is no longer interested in treats.

The dog vocalizes frustration despite being quiet earlier in the training session.

The dog acts too busy to do what you are asking. S/he may yawn, sneeze, pant, lick toes or sniff the ground. These behaviors indicate that s/he is becoming fatigued or stressed because the task is too challenging.

The dog looks for an escape route or retreats from the training session.
Once you know your training session is drawing to a close, it's important to end on a positive note. Simple nose to hand touches, a fun trick, or quick little doggy massage sends a positive message to the dog of a job well done!
 SIGNS OF FATIGUE WITH QUASAR:
             No matter what performance venue we are engaged in, I have always been vigilant in closely watching Quasar so that I know when he is fatigued. Since there's a good chance you may have seen one or more of these with your Schapendoes, here are Quasar's "signals."
Quasar is a "runner." He is quick to look for an exit ramp when he becomes fatigued or stressed. If I leave the door to his crate open before we begin a training session, he will seek out his "house" as a refuge. 
My response: Make sure his crate door is closed before we begin training.
If my treats are no longer appealing to Quasar, he will step away from the work area and sniff around. This is also known as "blowing me off."
My response: Go get the high-valued chicken!
If I bring out a piece of equipment that Quasar is not sure of, he will quickly look for his escape route. He approaches many things with caution.
My response: Anticipate that Quasar will "run." Lure him to the equipment by pointing with my hand where he does a nose touch. This is followed with a treat and "Good boy!" These situations warrant my very best cheerleader impersonations!
Quasar appears "flat" and his tail has drooped.
My response: Stop the training session and go to the rug and call for his "mama bear" and "papa bear" tricks, followed by a jackpot reward.
FIT DOG LEVEL ONE SAMPLER:
             What follows is a "Fit Dog Level One Sampler: An Enrichment Program for Your Dog." I have selected a few beginner exercises. Quasar and I will show you how you can teach your dog similar exercises.  Many of these exercises can be performed on the floor, and many can be done without equipment. However, I am confident that once you become hooked with teaching your dog various exercises, you will find yourself purchasing equipment that will enhance your dog's physical training.  A "must have" piece of equipment, in my opinion, is the "Klimb" (or platform). Why is the Klimb important?  Many training methods used by professionals, and myself included, often involve a "place," such as a "pause box," or in this case, the Klimb.  The platform takes advantage of a dog's natural tendency to seek a higher vantage point. When a dog is elevated, more focus is required and boundaries are defined (Blue-9 Pet Products).  As you look at various photos, you will see different types of Fit Dog and FitPaws equipment that can be utilized to enhance your dog's physical strength.
STRENGTH EXERCISE SKILLS: A SAMPLING
(Source:  AKC Fit Dog Level One Course)
   "QUASAR, HERE! WELCOME TO MY KLIMB!!!"
FREQUENCY                  REPETITIONS (REPS)               SETS                               DURATION__
          3 X Week                             3-5 per Set                       1-3                                 5-10 seconds
STAND – TUCK SIT
Dog keeps front feet stationary.  When I say, "tuck sit" he tucks his rear feet tightly into a sit.
COOKIE STRETCHES
Right paw shake with a high reach.               Left paw shake with a high reach.
Nose to left shoulder blade stretch.                    Nose to right shoulder blade stretch.
Cookie Stretches have been taught by a wide variety of fitness professionals. We do not want to stretch the dog's muscles manually. Instead, a wide variety of cookie stretches require that we lure the dog by using a treat to effectively stretch the desired body part.  The next cookie stretch would be nose to rib, and then, nose to hip, working both sides. Tip: Lickable treats work best!
SPIN LEFT (AND SPIN RIGHT)
Tuck sit.                          B.  Begin tight left turn.       C.   Stay tight with lure.
D.  Almost there…                                    E. Success:  Tuck sit!!!
Dog is able to make a tight circle in both directions, moving each foot independently, while all four feet remain on platform.
FOLD BACK DOWN